Movie Review: Guardians of the Galaxy, Vol. 2
By Monique of Walk.Run.Repeat - July 09, 2017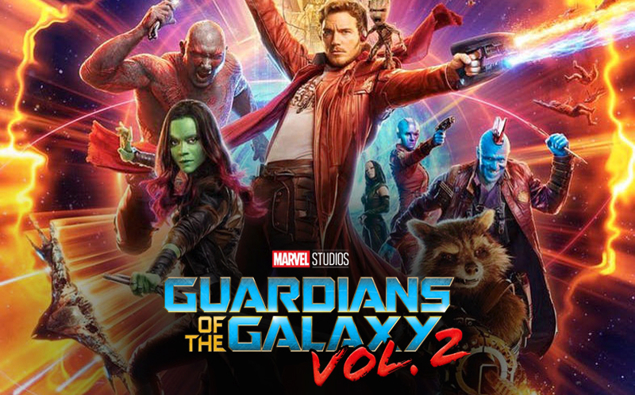 It's been, how long since the last Guardian's movie? I don't know about you but I've been feening for this sequel since the first movie ended. If you don't want spoilers, then you may want to stop reading because I'm spilling it all.
First, I'm late on seeing this movie but we'll ignore that fact. Let's focus on the movie! The story picks up a few years after the last one. The Guardians are now "heroes" and working a high profile job with some planet who needs help killing a monster that's trying to eat their batteries which power their planet. The Guardians successfully kill the monster (during one of the most EPIC opening sequences ever!) and then leave the planet – but not before Rocket, in typical Rocket fashion – steals a battery for himself and a chase ensues.
They outrun their former clients but end up crashing onto another planet where they are confronted by Star Lord's Father, Ego. What! Now, if you'll recall from the other movies, there was a great mystery around his lineage because he was one of the few people in the world (universe in fact) that could hold an infinity stone. This told us two things: 1) he is a total badass and 2) he has to be some sort of divine. Well, turns out, his dad is a freaking God and that makes Star Lord some of sort of demi-god. What?!
Long story short, he and his dad reunite but everyone has their doubts about ol' daddy-o, and with good reason. His dad turns out to be using him for his own personal gain, and Yondu (who was like a surrogate father to him), ends up saving him. We know he and Yondu had a rocky relationship anyway (he did try to kill him a couple of times) but we later learn about their backstory, which was actually pretty touching.
At the end of the movie, some relationships are mended, while others are broken, but one thing's for sure, our Guardians are family and will be returning for the next movie. The Infinity Wars will be split into two parts and we all know that they will bring the entire Marvel Universe together so we will see some old and new faces by the time of that movie.
I thoroughly enjoyed this movie - it did lag in a few spots – but it answered a lot of questions. Particularly for me, the story of Peter/Star Lord's mom and some other backstories. I don't want to give it all away but you have to see this. And some thing tells me that we may get a 3rd movie sooner rather than later because those Scavengers are a force.
I leave you with this opening sequence but also one of the most memorable songs from the movie. Shout out to the band, Looking Glass, for this hit and setting the scene for this movie. FYI: Seeing a 1970s version of Kurt Russell was a mind-trip!
A few notes of interest:
Baby Groot stole the whole movie for me.
Yondu really wasn't as bad of a guy as we all thought.
Rocket has to be the most resourceful but meanest thing ever!
I have faith that Nebula and Gamora will reunite.
If Ego was a god, are there others?
We get to see "Adam" in the making. OMG!
How is this going to tie-in with the upcoming Marvel movies?
Did anyone peep Howard the Duck?